How can our leak detection help you?
Found and fixed on the same day
Even when you can't see it - we can find it
We can help when other's can't
Shower problems? We can help
Why we're the trusted choice in Altona North?
Proof we are the trusted plumber of choice in Altona North
Had Fix It Right Plumbing come out to fix taps in both bathrooms and to increase water pressure in the spa bathtub. Fix It Right Plumbing were understanding when we had to change the initial appointment and worked around us to organise a new time. They also rang the day before the initial appointment just to confirm that was everything was still good to go. The appointment was for 0800, but he was running late, he rang 30min prior to the appointment to let me know which was great. Jack was friendly and very professional, as I am working from home he was quiet and got straight into the job. On completion there was no mess and work was done to a high standard. Due to COVID restrictions Jack adhered to the mask and 1.5m social distancing. Price: Affordable and warranty on taps.
Response from Fix It Right Plumbing
Hey Trent, Cheers for the fantastic review! It's great to hear you had a pleasant experience with Fix-It Right plumbing. I'm so glad we could give you the best results to fixing all your tap ware at your house in Endeavour Hills. Hope u Enjoy having a nice bath without having to wait so long for it to fill. Cheers, Jack Fix-It Right Plumbing
After reading these reviews, I called Fix it Right on a Monday and had Jack turn up as promised the next day first thing in the morning. Jack was very professional and conducted all the investigations needed whilst explaining the process to me, along with the payment structure. Job was done quickly and efficiently, along with further checks to ensure there would be no foreseeable dramas. I have no hesitation in recommending Jack and the team to anyone. Thanks guys!
Response from Fix It Right Plumbing
G'day Jennifer, Thanks for a great and detailed review. It was an absolute pleasure clearing all your drains and checking them over to reassure you at your house in Seaford. I enjoyed the music you were playing too! Cheers, Jack Fix-It Right Plumbing
Jack came out right on time, and was super professional, friendly, and did a full check of everything. The leak is no longer leaking, and I would definitely use Fix It Right Plumbing again!
Response from Fix It Right Plumbing
Hey Adam, I appreciate the review. There were no dramas coming out and checking over your plumbing so you are reassured there are no more leaks. Take Care, Jack Fix-It Right Plumbing
We are so pleased that we chose Fix It Right Plumbing to unblock our drains, Daniel was thorough in explaining the problem and solving for it. The service was also fairly priced.... Thank you so much Daniel. We will definitely recommend you to our family and friends.
Response from Fix It Right Plumbing
Thanks for the great review Pheebie! I'm so glad you felt confident after my explanations to have me sort your blockage. It was a pleasure meeting you and your little man. I'm glad you have a plumber you trust now! Take Care, Daniel Fix-It Right Plumbing
Arron was upfront and professional. I would use Fix It Right again. Thanks Arron!
Response from Fix It Right Plumbing
Hi there, thanks for allowing us to attend to your blocked sewer drains. It was my pleasure to get them unblocked and working great again! Kind Regards, Arron from Fix-It Right Plumbing
It's an unknown leaking pipe in my front yard. One call and 2 technicians arrive within one hour. Job get done within 2 hours. Very professional. Well done Jack and Adam.
Response from Fix It Right Plumbing
Thanks for the review Yi Shi. It was a pleasure to locate and fix the burst pipe at your house in Narre Warren. Thanks again! Cheers, Jack Fix-It Right Plumbing
1.0 out of 5 stars
review from:
I needed to have a toilet lid replaced for one of my NDIS clients before she went into hospital for 2 weeks on the following Monday. I booked Fix it Right Plumbing for a Friday afternoon. I reminded the receptionist thai it had to be done on that day because the client was going into hospital the following Monday. Then 5 minutes prior to the booked time on the Friday I got a call to inform me that the plumber was stuck at an emergency call out. I was enraged. Yes, I vented my spleen because they had let me and my NDIS client down badly. Not happy Jan.
Response from Fix It Right Plumbing
Hi Don, Thank you for your feedback and we apologise sincerely that we were unable to help you in this instance. We understand being re-scheduled can be very frustrating and we do try to avoid doing this. We take your feedback seriously and will speak with our team to make sure that they understand if our clients have particular time frames, that we consider this and provide much more notice in the same instance in the future. We hope your client was able to get the toilet seat fixed in the end. Take Care, Claire Fix-It Right Plumbing
Jack was professional an friendly. Cleaned up after himself and explained what he was doing as the job progressed.
Response from Fix It Right Plumbing
G'day Mike, thanks for the 5-star review! What a strange situation you had with something eating your pipe and creating a leak at the back of the toilet. Glad we could resolve the problem by replacing some of the pipe work and getting your toilet up and running again. Cheers, Jack Fix-It Right Plumbing
Aaron serviced taps and changed out taps for us. His work was excellent, as well, he was incredibly polite, well spoken and patient in answering our questions. Fix It Right Plumbing has really good systems and we were impressed with the booking service, on site payment process and clear expectations that were set out up front. We'll definitely be using these folks again. Recommend +1.
Response from Fix It Right Plumbing
Hi Elise, Thank you for allowing Fix-It Right Plumbing to attend to your house in the Geelong area. I was more than happy to identify the issue with your taps and get them sorted for you thanks for taking the time to write a 5 star review, I really enjoy the feedback. We have a very high standard in our customer service and up front pricing. I wish you all the best. Kind Regards, Arron from Fix-It Right Plumbing
I had a very positive experience today with Fix It Right Plumbing. Jack called before he arrived, he was on time, he was great to liaise with and he was COVID safe. He went through all of my options and pricing before doing any work. Having zero expertise in plumbing, it's reassuring to have everything explained carefully. He completed all of my jobs and I'm feeling relieved and happy. I have an old house so I've signed up for membership cos I will likely need to call again! Really great work and customer service. Thanks so much, Jack! 👏
Response from Fix It Right Plumbing
Hey Michelle, Thank you so much for the lovely review! I'm so glad you were happy with the cistern and toilet seat we supplied and installed. It came up a treat You were a great customer and always had a big smile on your face so always happy to help. Take Care, Jack Fix-It Right Plumbing
If you live in Altona North or the surrounding suburbs, we've got you covered
We have leak detection specialists all over Altona North and can service a large range of areas including leak detection Laverton, leak detection Altona Meadows, leak detection Altona, leak detection Williamstown, leak detection Newport, leak detection Braybrook, leak detection Kingsville, leak detection Footscray, leak detection Seddon, leak detection Yarravile or leak detection Port Melbourne. No matter how simple of complicated your water leak is, Fix it Right Plumbing can get your home or business plumbing back up and running again fast.
Because we are plumbers - we can find and fix your leak on the same day saving you enormous amounts of time and money.
So give us a call today and find out why we are Altona North's most trusted leak detection company.
Why choosing the right leak detection company for your water leak is so important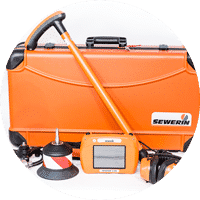 Tracer Gas Leak Detection
Non Metallic
Line Location