What can our Melbourne Leak Detection Plumber help you with?
Found and fixed on the same day
Even when you can't see it - we can find it
We can help when other's can't
Shower problems? We can help
Why we're the trusted choice in Melbourne?
Proof we are the trusted Leak Detection Plumber of Choice in Melbourne
Highly recommend Fix It Right Plumbing. They responded quickly to my call, and their tradesman Corey was very friendly, efficient, and professional. Before commencing the job he provided a cost that I think was very competitive and he completed the work to my complete satisfaction.
Response from Fix It Right Plumbing
G'day Steven, Thank you very much for your kind words. It was an absolute pleasure meeting you and I'm truely glad I could be of help. If you ever need me again, feel free to reach out. Kind regards, Corey Fix-It Right Plumbing
Response from Fix It Right Plumbing
Thanks you John for taking the time to leave such a positive review. We strive to give our customers a great service. If you have any work in the future that needs attention, we would be more than happy to help. Kind regards, Joseph Fix-It Right Plumbing
Great service and friendly team.
Response from Fix It Right Plumbing
Hey Alex, Thank you so much for your fab 5-star review 🙂 We're very fortunate to have such a great team here at Fix-It Right Plumbing. We're so pleased our serviced lived up to your expectations and that you no longer have to worry about your plumbing problem. Here to help any time you need. Thanks again, Claire Fix-It Right Plumbing
We found Fit it Right plumbing through Google and we were happy that we did. Joseph and the team were extremely easy to deal with. Joseph was honest and provided the right recommendations for us. Can not recommend these guys enough. A pleasure to deal with.
Response from Fix It Right Plumbing
Thank you for your kind review Matt. We try and work as a team to make the whole process easy for our customers. We are so happy that we could help and look forward to helping you with any other plumbing problems in the future. Kind regards, Joseph Fix-It Right Plumbing
.0 out of 5 stars
review from:
Highly Recommended Daniel and his team! We have some very complicated plumbing issues in a house we recently moved to, Daniel done a very detailed analysis on everything throughout the house and provided different options for us to consider. Very impressed with their service and professional advise. Most of the other plumbers attended previously left and never return to solve our problems. Will definitely recommend Fit It Right to our families and friends! 🙂
Response from Fix It Right Plumbing
Thanks kitty! I love hearing how happy a customer is! I'm so glad you feel comfortable in your new home after getting a complete inspection done! If there's anything you need, we will always be there for you. Take care, Daniel Fix-It Right Plumbing
We are impressed with how quickly Fit It Right got back to us when we reached out regarding a severe water leakage underneath our house. Joseph is a star! He was very professional and knowledgeable from the get go. He explained the potentially causes for the leakage, the options/steps and costs involved. I definitely recommend him and will be going to this company for any future plumbing issues going forward! Good stuff and thanks very much Joseph!!
Response from Fix It Right Plumbing
Thank you so much for your kind review. Getting in under houses to fix Leaks is our bread and butter even for a big fella like myself. If you have any future plumbing needs in the future, please feel free to contact us. Kind regards, Joseph Fix-It Right Plumbing
Response from Fix It Right Plumbing
Hey Wihan, Thanks heaps for the review. Hope you're enjoying your new cooktop, kitchen mixer and taps out at your home in Skye. Looking forward to helping you out with any of your future plumbing needs. Cheers, Michael Fix-It Right Plumbing
Many thanks to Daniel for replacing my hot water system I was very happy with the work done and for explaining the process to me. I am so happy that you took away the old one and left my small yard so clean and tidy. I am very impressed with the prompt attention to my initial call, for keeping to your stated timeframe and most of all Daniel is very courteous, polite and a gentleman.
Response from Fix It Right Plumbing
Thanks so much Faye. You deserve nothing but the best service. All of our customers do. I'm so glad you trusted us to take care of your problems before they were much bigger headaches. If you need anything again, you know we will be right here for you. Cheers, Daniel Fix-It Right Plumbing
Corey again did an superb job this time. Not until the old water heater was dismantled that we found a large cavity in the external wall that was left behind in the installation of the old heater as well as the messy piping layout. It's a tedious and difficult task to have everything fixed but Corey showed his professionalism and expertise during the process. Not only had he completed the installation of a new water heater and properly realigned all the pipes, he also worked hard in coming up with good solution in covering the cavity with a nice-looking cement sheet. It took him a long time to have the whole job completed but he never complained about it. He finished it with excellent workmanship. I have no hesitation to recommend your company to friends and family.
Response from Fix It Right Plumbing
Thanks for the review Angus! Really appreciate it mate. Definitely had a win today bringing that Aquamax back to life! Hope you get plenty of years from it now fingers crossed. So good to hear you are happy with us and if you ever have any dramas, absolutely give us a call and we will sort you out. Cheers, Corey Fix-It Right Plumbing
I called up today and spoke to a lovely lady, I explained the concern with my Mums shower and she advised that someone could go out today and inspect, explained how everything would work. I received a call from Mitch when he was at mum's,he explained everything and gave a very reasonable quote, he had the whole job done before the time he was even booked to arrive. Thank you Mitch, so professional, punctual and polite. 💯 Recommend Mitch and this company. Thank you.
Response from Fix It Right Plumbing
Hi Kristen, thank you for the amazing feedback you've given. You and your Mum were both a pleasure to work with and I'm happy we could fix your shower concerns. Reach out again if you have ever have any future plumbing problems as we are always here to help. Thanks again, Mitch Fix-It Right Plumbing
Why Choosing The Right Water Leak Detection Company is So Important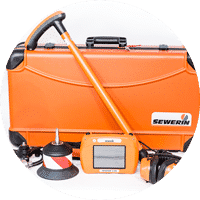 Tracer Gas Leak Detection
When it comes to hidden water leaks in Melbourne and the surrounding suburbs, Fix It Right Plumbing has you covered! Our dedicated team of leak detection specialists spans across Melbourne, providing services in various areas, including Lilydale, Ringwood, St Kilda, Carlton, Richmond, Brighton, and more. Whether you're dealing with a straightforward or complex water leak issue, Fix It Right Plumbing can swiftly restore your home or business plumbing to full functionality.
As experienced plumbers, we take pride in our ability to identify and repair water leaks on the same day. This commitment not only saves you precious time but also ensures that you avoid unnecessary expenses. Our mission is to get your plumbing back up and running as quickly and efficiently as possible.
With a strong reputation as Melbourne's most trusted water leak detection company, Fix It Right Plumbing is your reliable partner for handling leaks in Melbourne and its suburbs. Contact us today and discover why we are the go-to experts for leak detection and repair services in the area. Don't let leaks disrupt your life – rely on the expertise and prompt service of Fix It Right Plumbing to resolve your water leak issues.
Frequently Asked Questions About Leak Detection in Melbourne